handing off the books
I'm getting ready to see my niece and nephew next week, after far too long. My favorite part of the preparations is figuring out which books to get them.
The Wednesday Witch is on its way. If it doesn't arrive in time, I can always send it for Rowan's birthday, which is in about a month. Today I got her two books that I would have given her anyway, at some point, because they are two of my first and favorite chapter books. How happy am I that she asked for them!
First, there's the real
Mary Poppins
, by P.L. Travers. I didn't even know Rowan knew there was anything besides the treacly Julie Andrews movie. She rules.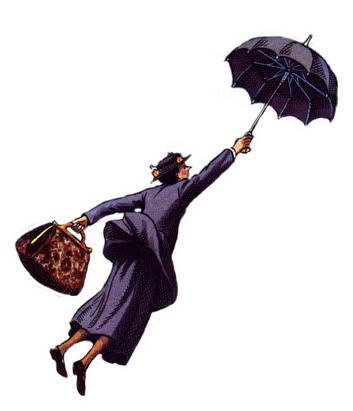 Then there are the Little House books. I didn't know kids still read these, but I'm glad they do. My favorite was Little House in the Big Woods, because I loved the scene where Ma and her sisters got ready for the dance, in their pretty ginghams, with their hair braided and rolled. I LOVED those women, and wanted to be just like them when I grew up. I also loved it when Mr. Edwards brought Christmas treats, including an orange for everyone's stocking. She's already read that one, so I'm getting her the next one,
Little House on the Prairie
(this is the next book in the series according to ME! I am not buying Farm Boy, just because the publisher has pedantically numbered the books).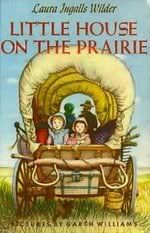 If
The Wednesday Witch
gets here before we leave, I'll have three books for her. Of course I'm dying for her to be a reader, and she seems kind of maybe interested--not the way I was when i was her age, but I think she's getting more interested as she gets older. My sister is pretty strict about setting aside lots of reading time. I know, I know, Rowan gets to choose her own books and have her own subjectivity. I'm pacing myself, though, and getting reacquainted with the childhood books I don't think she or her brother can live without before I pass them on. Because, really, some of my favorites haven't held up that well. Take my old friends Betsy-Tacy. You might remember their books looking something like this: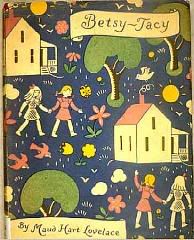 I loved those books. I read them several times throughout elementary school. I thought I had never heard cuter names and I used to dream of having twin girls who I would name Elizabeth and Anastasia, so they, too, could be Betsy-Tacy. But, you know, it turns out those girls don't really do much besides hang out and be really girly together, sewing, and making cookies. The one time they go outside, they either ice skate on a semi-frozen lake, or run around in a rainstorm, and wouldn't you know it? One of Tacy's siblings catches a cold and dies. There's a lesson there, kids. You know it's one of Tacy's, because if I remember correctly, she's from the wrong side of the tracks, from some big, poor Catholic family, where children are often lost due to carelessness and neglect. There're just too many damn children to keep alive! That's why Betsy's more genteel, Protestant family graciously allows Tacy to hang out at their house, eat their food, wear Betsy's clothes, sleep in her warm bed, etc. So while I might have enjoyed these books for the insightful critique of class tensions in early 20th century America, I don't think my niece would dig them. Besides, have you seen the new covers? What the hell is this?