Sloop John B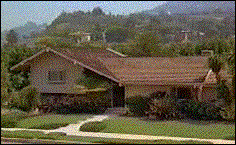 I woke up with this song in my head this morning, and it was so persistent that I had to go to itunes and download
Pet Sounds
. I probably should have had this album before, and I probably should own it for real, but The Beach Boys make me whimper, for all kinds of reasons. I woke up wanting to go home, but not knowing where home is. I think it's because of the made-guy in this week's Sopranos, who, having inherited some money, dreams of moving to Florida and starting over. My mind flashed to a row of fairly cheesy apartments-turned-condos around the corner from the house my family rented for 25 years. I see the red Spanish-tiled roofs, the giant fern plants lining the condo walkways, a eucalyptus tree stretching tall against the yellowy-blue of the sky. I can feel the sweet softness of the dry, dry air.
When I used to dream about hitting the academic jackpot, in my deepest heart of hearts I dreamt of landing in Orange County and buying one of these condos. It was a modest dream, realistic in its acknowledgement of how hard it would be for an academic to buy a home in So. Cal., but it was also a dream about being close to my family, because up until last May, my sister and her family lived in that home, having taken over the lease from my mom when she moved back to her childhood home to take care of her ailing mother. My quick, pangy flash the other night reminded me of something I rarely admit: how much I want to go home, and how impossible that dream has always seemed, even at eighteen, when I first left home.
My dad is the oldest of nine children, so when I was born there were still young children in my grandparents' home, aunts and uncles who were only a few years older than me. Listening to The Beach Boys reminds me of leaning against a giant, stuffed purple panda in a corner of the room my aunts shared, listening to them talk or, more likely fight, while they got ready to go out and do whatever teenagers do. The Beach Boys take me back to that achy, melancholy childhood waiting period when it seems impossible that you will ever be included in conversations, or have a place that is just yours, that time when you wonder what you will look like when you grow up, and if you will recognize yourself. Having lived my entire adult life away from California, I often meet people who tell me about their childhood fantasies of living there, fantasies premised on shows like
The Brady Bunch
and
The Partridge Family
. They tell me that Southern California seemed like the ultimate place to live, where everyone was cool and attractive and happy. They dreamt of growing up and being able to access that life.
I would like to say, for the record, that kids who grow up in Southern California have this same dream.