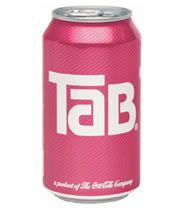 I'm done teaching for the summer. Finally. I still have a week full of meetings and end-of-the-year events, but mostly, I'm almost free. I know this in my bones because I'm starting to feel that slightly overwhelmed feeling of unstructured days ahead, and work mornings slept-through, and the sinking feeling that I just didn't get done what I needed to get done this summer.
One of the things that has gotten me through the end of the quarter, and made office hours my way favorite part of the day, has been my renewed appreciation for the quite possibly dangerous, but every bit as good as I remember it being, Tab. How can you not love a soda that comes in a pink can?
Remember how the sacchrine stays on your lips, so that a half hour after you finish the soda you lick them without thinking and there it is, that sweet, peppery flavor?
A couple of friends from college, one of whom was my roommate for a long time, are in town tomorrow and I'll be spending the day with them and their three daughters. Now, I'm not in touch with any of my undergraduate friends--we might have drifted apart over the years anyway, but my leaving the church and coming out definitely expidited the process. And that's about me as much as them--I ran to the other side of the country and immersed myself in grad school and tried to get as far away from my former self as possible. The closest to Utah I've been in over a decade was a campus visit at UN-Reno, and just the sight of the Wasatch Mts. filling up the horizon, all dusty and brown, and looming and huge, made my heart feel clutchy and pangy and panicked.
I'm kind of scared. But I really loved these two people. They weren't a *they* when I knew them; they married long after college, in their late twenties, which is kind of rare in Mormon culture, and seem to live a really low-key, joyful, tumbley kind of life. So we'll see. They tell me that their daughters are impossibly girly-girls, which amuses and exasperates them, as neither of them cares about stuff like that; they think I'll get along with them famously. I hope so. I think so.