10 IQ points stupider after yesterday
Did anyone else find it almost impossible to turn off VH1's
Rock of Love
Marathon yesterday?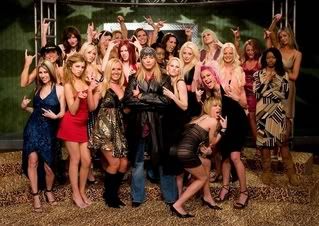 I just got back from visiting my family in California and my otherwise smart, feminist, kick-ass niece introduced me to this show. (I don't think her mom knows she watches it.) I could have finished a syllabus yesterday. I could have worked on my book. I could have bathed, or exercised, or cooked, or gone grocery shopping.
But I didn't. I sat on the couch and watched the trashiest women I've ever seen roll in mud, flip off of motocross cycles, dig through garbage cans, drink until they couldn't stand up, vomit through their fingers, strip off their clothes and fling themselves onto stripper poles, and tear each other's hair out over this guy:
Hope everyone's labor day was as fun and productive as mine.